Where Are They Now? – Fanoula Dimarhos
Our first interview of 2022 is with 2021 Rutgers Graduate and NJPEC Scholarship winner Fanoula Dimarhos, being interview by NJPEC Vice President, Kristyn Shaner.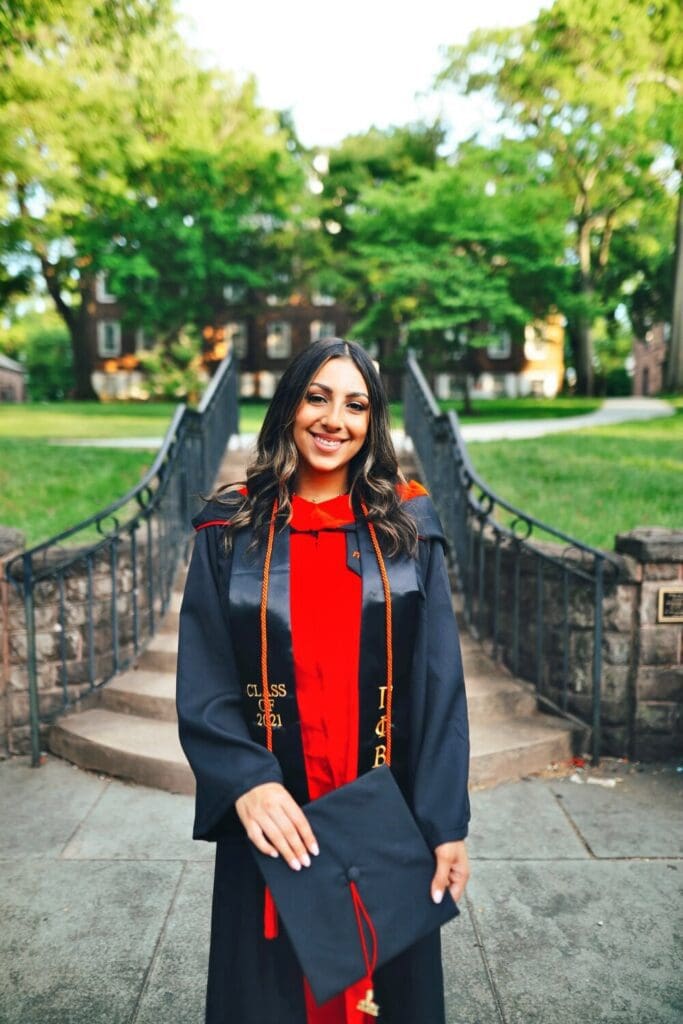 KS: Introduce yourself. Where do you go to school? What was your major? What are you doing now?
FD: My name is Fanoula Dimarhos and I graduated in 2021 from Rutgers University School of Engineering with a major in Applied Science Packaging Engineering. I was fortunate enough to get a position upon graduation with Johnson and Johnson. I started in June 2021 with their consumer goods division based in Sklliman, NJ. My official role is Packaging Development Engineer and I support the Skin Health division, with a focus on the Neutrogena sunscreen line.
KS: How did you first hear about NJPEC and our scholarships opportunities?
FD: Our program advisor at Rutgers notifies all students about potential scholarship opportunities as well as application deadlines prior to our packaging banquet. This is very helpful as it keeps all of the students aware of what is available. Also, all my fellow classmates inside the department really communicate well with each other to share opportunities like these scholarships through NJPEC. I really felt like I received a lot of guidance from upper classmen and never felt like it was a competitive situation.
KS: Can you tell us about the time in your life when you realized you wanted to be in packaging?
FD: From a young age I always enjoyed math and science, so I knew engineering would be a good fit. When I visited Rutgers with my family there was an opportunity to learn more about each engineering department during the campus tour… packaging was one that caught my eye. I was the only student in attendance during that session, and Professor Lee gave a presentation discussing the packaging major. I never heard about this option before, but it felt like it could be a great fit for me as packaging combines the technical side of engineering with my creative side. Initially I was on the edge, as I didn't know if packaging was too niche. However, after talking to a classmate, Haley, I realized how in demand it was. Every manufacturing company needs packaging. She convinced me to make it my major!
KS: What courses at Rutgers were your favorite? And what course(s) best prepared you for your current role?
One of my favorite courses at Rutgers was E-Commerce in Packaging taught by Professor Blake. It was very interesting to take during the Covid-19 pandemic since E-commerce was taking off more than ever before, and many packaged products were switching to a direct-to-consumer model.
Another course that stood out to me was Sustainable packaging, which is a packaging elective class. This specific class broke down key aspects of sustainability including information on different materials and life cycle analysis. Professor Santos taught the course and shared her knowledge from working in the packaging industry. This class prepared me for my current role in many ways since Johnson & Johnson strives to meet sustainability goals. Many of the projects we are working on now must adhere to certain guidelines, and sustainable materials always need to be considered. I'd like to mention that while this class stood out to me, I felt like a lot of the classes I took during my studies at Rutgers were pertinent to the workplace.
KS: Covid has been a challenging time for everyone. Tell us a little how your company adapted during this time?
FD: When I started working at Johnson & Johnson, we were 100% remote. During the summer months, we transitioned into going into the office once a week and now we are on a "flex schedule" in the office 3 days a week. Johnson & Johnson has tried to be accommodating to all employees and has created a great work-life balance throughout the pandemic.
However, Covid really affected me more during my studies at Rutgers. Everything happened very abruptly to no one's fault. I'd say the biggest affect was toward our senior design project, which was 100% remote. Typically, we'd have access to labs for prototypes and the ability to work together in person. I would have liked the ability to utilize the resources at the department.
KS: What do you think will be the most important aspect of packaging to consider as we start coming out of COVID? How do you think packaging has / will change as the world transitions?
FD: My biggest takeaway from my experience in the packaging industry throughout the pandemic is that we need to create DTC (direct to consumer) models for all products we work on. Consumers are doing less in-store shopping and ordering more products online. It is very different to design a package to withstand the distribution process to get as product on a store shelf verse going directly to a consumer's home. The difference in the number of touchpoints in either scenario needs to be considered. So now, we have to be able to design packages to withstand direct to consumer supply chain. For instance, we have to make sure things are "Amazon ISTA certified" and that is another layer of alignment during the development process.
KS: Now that you are on the other side…do you have any advice to students currently studying Package Engineering?
FD: My advice to students currently in the Packaging Engineering focus is to get industryexperience while still in school. I felt that with a lot more experience (even with a lower GPA) you'll have tons of opportunities after graduating. I personally think I put a lot of pressure on myself to get high grades, and although that is important, I felt like my experience helped ultimately landed me where I am today. Rutgers builds the Co-Op into your curriculum, so take advantage of that.
KS: Anything additional you would like to add?
FD: I really enjoyed connecting today and appreciate the opportunity. I encourage anyone reading this to connect with me on LinkedIn!