Where Are They Now? Emma Florentine Interview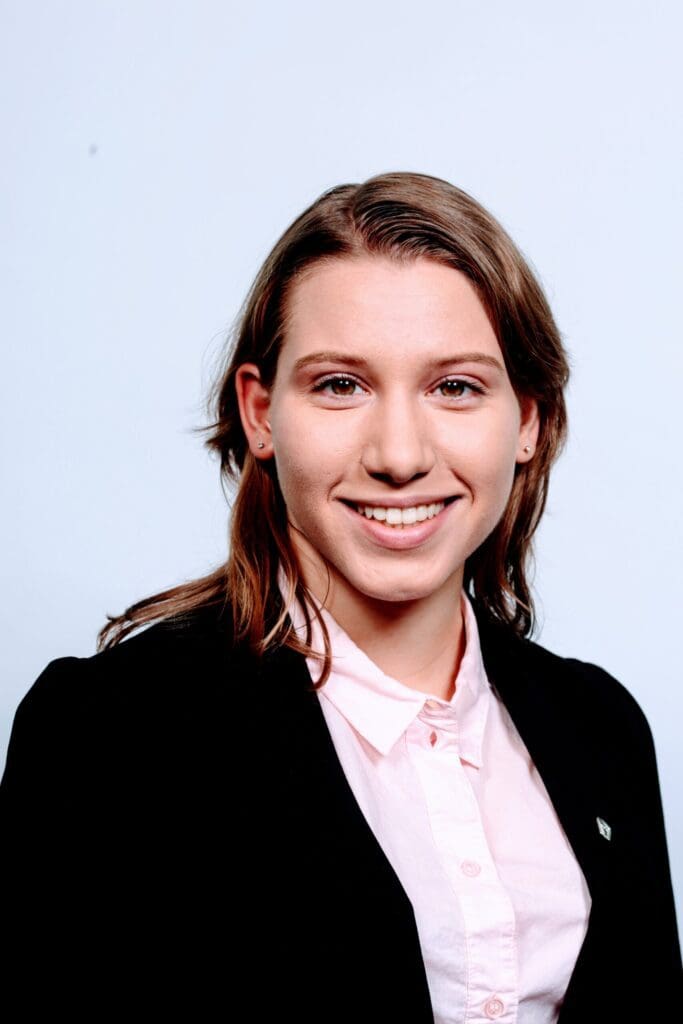 By Jesse Fischbein
Jesse: Welcome NJPEC members, we're excited to introduce a new series of interviews that will help us stay connected to you and reintroduce you to our former NJPEC scholarship winners. Today I have the pleasure of speaking with Emma Florentine, a 2018 NJPEC scholarship recipient, and class of 2019 Rutgers Materials Science and Engineering graduate…welcome Emma!
Emma: Thank you for having me!
Jesse: So how did you first hear about NJPEC and the scholarship opportunity presented?
Emma: When I became interested in packaging, I joined the Rutgers Packaging Club. My hope was to become connected to the packaging students. Almost right away the Packaging Club mentioned NJPEC and how this club is a great way to connect with professionals, so I went to the next NJPEC event. Everyone was welcoming (including you, Jesse!) and I could see how NJPEC really has a great group, so I signed up on the spot to become a student member of NJPEC. The Rutgers Packaging Club really does a great job of connecting students to networking events and other professional opportunities.
Jesse: Can you share with us how you first became interested in packaging and what made you determine "this is what I want my academic focus to be"?
Emma: I heard about an internship for packaging engineering and was interested, even though at the time I didn't know what packaging engineering was. I remember showing up for the interview with the company and they asked me if I had any other questions at the end. There were shelves on the wall of the conference room with samples of packaging from their projects, and I remember walking up to it, picking up pieces, and asking question after question – "What's this part on the cap?" "Oh that's a ring seal". "How did they get this iridescent effect?" "That's hot stamping". I have always been curious and detail-oriented, and I realized that packaging involves all the details that a consumer usually doesn't notice. I became hooked. The internship was a great experience and I realized that I could see myself doing packaging engineering once I graduated.
Jesse: Did you partake in any internship programs related to your studies, and if so, can you tell us about them?
Emma: Yes, I had an internship with Batallure Beauty. The internship was in both packaging engineering and quality assurance – I reported to both a packaging engineer and the director of quality. Batallure focuses on beauty, skincare, and fragrance, so I was exposed to all sorts of products within those industries, from more mass-market to more prestige brands, including a designer brand, and I got to see how functionality and aesthetics combined in the packaging. The team at Batallure is small as well, so I got to know my colleagues well and ask them questions about their roles.
Jesse: What can you share with us about your first job out of college? Do you feel your course work at Rutgers and internship experience (if any) prepared you for it?
Emma: My first job was with Shiseido Americas as packaging engineer for product optimization. I focused on post-launch changes with value analysis, including harmonization, switching production to automation. I worked with all brands and a variety of packaging formats. I drew on my coursework in materials science and engineering to understand the reasoning behind different choices of materials for different applications, but also my internship experience in packaging and quality as I worked directly with quality, production, procurement, and vendors. Packaging engineering involves a lot of cross-functionality and it was very much what I did in that role.
Jesse: (if applicable) Where are you now in your professional career? (Are you still with the same company, same position)?
Emma: I am currently unemployed and looking for another packaging engineering opportunity. It's fortunate that packaging engineers are in demand, and I'm hearing back from people, so I'm patiently persevering.
Jesse: The pandemic has brought about much change and uncertainty. How did you push through 2020, and has your job and company changed at all to meet the challenges imposed by COVID?
Emma: At the beginning of the pandemic my team and I switched to working from home. I had to get creative to make a setup for working at home and see what worked best. My role had always focused on value analysis, but this became even more of a priority once the pandemic hit – finding ways to increase efficiency, reduce costs, and help the business adapt to any challenges with demand and supply. Whether it was verifying a machine trial virtually or changing production methods to allow for social distancing, we found ways to continue forward under these new guidelines.
Jesse: Do you think packaging will change, at all, as we come out of this pandemic? Are you seeing any changes to packaging at this moment, from your own work experience?
Emma: Absolutely, packaging is already changing, especially in the beauty industry. In retails stores it used to be that there were tester versions of a product so that people could try out the product in stores. All testers have been removed from stores in the pandemic, and there are discussions of if they'll ever be brought back. Trying on beauty and skincare products has always been important for consumers, as it's important to see if the product is compatible with your skin type or if it matches your skin tone. One way to allow consumers to still try on a product is through trial-sized packettes and other small, individually-sealed packages – this way you can still see how the product behaves, but you're not using a tester that has been shared with others. More individually-packed trial-sized options may be the way to go for any products where "trying before you buy" is an important part of the purchasing process. Innovations in packaging that incorporate hygienic features is a higher priority now.
Jesse: Where do you see yourself, professionally, in the next five years? What's your next packaging related peak to climb?
Emma: As I continue to learn and gain experience, I'm hoping to find a niche or area of expertise that really interests me, and then take that knowledge to the next level, whether it be through professional trainings and certificates, or through a higher degree. I've thought about getting further education in automation engineering, or maybe eco-friendly materials and production processes. A more short-term goal of mine is getting my Spanish to professional-level competency.
Jesse: And finally, what advice would you give to the next generation of students majoring in Packaging Engineering?
Emma: Connections are definitely key, and it's always worth getting to know people! Many people in this industry know each other (and each other's companies), so it's good to learn who's who in the packaging world. I would also say that yes, work that aligns with your personal values does exist – I know for me, sustainability is important, and it's great to see that sustainability is a common priority in the packaging industry. Giving back to the community is another personal value I hold dear, and many companies have ways to be a part of that. Finally, don't doubt yourself – this is a common feeling many young professionals wrestle with as they step into the industry and see lots of experienced professionals around them. Yes, it's intimidating to be new to the workforce, but you have the training you need, and others will always be willing to answer your questions. When you're part of a great team of colleagues, you'll find you have all the guidance you need to learn and grow.
Jesse: Emma, we hope you'll continue to be a shining star within our industry in New Jersey, and we welcome Emma as a contributing NJPEC board and committee member in 2021. Emma will be working on some exciting NJPEC events we have planned this year, we hope you all have the opportunity to meet her. Thank you very much for your time Emma.
Emma: Thank you, Jesse! I appreciate you taking the time to speak with me, and I'm looking forward to working with NJPEC.