The NJPEC community morns in the loss of 4 of our long-time members: Tom F. Leahey Jr., Linda Buck, Don Kane and Matt Greco. We'd like to take this moment to honor them.
Tom F. Leahey Jr. – Written by immediate family members
Cosmetic Packaging Executive, Fisherman and Grandfather Extraordinaire
Thomas F. Leahey Jr., age 77, of Plainfield, NJ passed away peacefully on Tuesday, June 23rd, 2020 at home with his family by his side. Born in Bayonne, NJ to the late Thomas and Marie Leahey, he moved with his family to Cranford, NJ in 1949.
Mr. Leahey attended the Phoenix School of Design in NYC and graduated from San Francisco Art Institute with a BA in Painting and earned a MA in Fine Arts from Catholic University, along with an MBA from Fairleigh Dickinson University. He served in the US Marine Corps Reserve.
Tom very much enjoyed his sales career in the beauty packaging industry for over 50 years. He was a long-time active member of CIBS: Cosmetic Industry Buyers & Suppliers, NJPEC: New Jersey Packaging Executives Club and BIMS: Buyers, Importers, Manufacturers and Salesmen of New York.
Toms was also a world class fly fisherman, loved driving his 1959 MG midget, his Softaill HD motorcycle and was a NJ Devils season ticket holder. Always proud of his affiliation with the US Marine Corps, he was known to participate in their charity runs on his Harley. He will be remembered for many wonderful qualities, but most of all, his Irish eyes, storytelling and LOVE for his family and friends.
Surviving are his daughter and son, Jennifer Buckley (Barry) and Ryan Leahey: his two granddaughters, Katherine and Coralie; his sisters, Denise Buerck (Jack) and Joan O'Connor (Terry); his brother, Rich Leahey (Eileen) and his former wife Ellen Holland, along with his nieces and nephews, Liz, Grace, Connor and Sean.
In addition to his immediate family, surviving are his long-time parent and companion Mary Alonge; her children, Jeanne Venneri and Justin Venneri (Brooke); and Mary's grandchildren, Luca, Lily and Leo.
A private ceremony for immediate family will be held presently and a celebration of life for friends and colleagues will be held next year (2022). Memorial contributions can be made to the American Cancer Society or Wounded Warrior Project.
Semper Fi dear Father, Pop-Pop, Brother, and Mate.
Linda Buck – Written by Judy Vincenty
I met Linda when I stumbled into this industry in 1996 knowing virtually nothing and absolutely no one. We met and became friends when our two companies had started a collaboration and she and I were partnered for the project. The project ended, but our friendship never waned. Linda introduced me to people and industry groups that would be instrumental to my cosmetic packaging journey because Linda seemed to know everyone, and they all knew her.
Linda was like a ray of sunshine when she walked into a room and impossible to notice. Tall, blond, and beautiful and perfectly put together. Just how she wanted it. She had a thirst for life and made it her mission to enjoy every moment. From spending time with her family and friends to traveling halfway around the world to explore and meet the unknown. Like chartering a sailboat to circle the Greek Isles. Or hopping on a plane to a China she'd never met. To jaunts through Europe. She embraced life with boundless passion, energy, and a curious sense of adventure.
Linda was a loyal and dedicated friend with decade long friendships. I consider myself fortunate to have been one of them. It is still difficult to fully accept the sad reality that she's gone. I can still close my eyes and hear her giggling across the table at an industry event or being silly with the rest of us at a girls-night-out.
For years Linda made us smile. Today she's made us cry. She will be forever in our hearts – definitely mine. RIP my friend!
Don Kane – Written by two of his closest colleagues – Joe Cicci and Karen Haddenwolf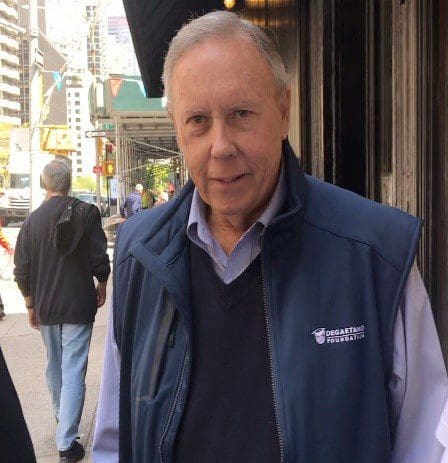 The passing of Don Kane was a shock to many. Don was a great folding carton salesman, a great golfer, and someone that was always positive. He truly was a fun person to be with.
Don's sales career spanned over 50 years supplying value added cartons to the cosmetic and toiletry arena with quality companies such as Lord Baltimore Press, Arkay Packaging, Alford Packaging, J & PB Meyers, Union Camp Folding Carton Division, Shorewood Packaging, Curtis Packaging and Color Optics.
Don was an active member of NJPEC and was inducted into the NJPEC Hall of Fame. He was also a member of Montclair Golf Club, CIBS, 21 Limited, the Coty "Prayer Group", and BIMS where he was named BIM of the year.
Don Kane was truly an icon in the business and will be missed especially at NJPEC meetings and events.
I had the privilege of working with Don over the years as did many, and we will look back at our time together fondly
– Joe Cicci
Joe had a much longer history with Don. However, anyone who knew Don, found him a person of interest, to say the least. – I had the privilege of knowing Don, over the years and only worked with him when at Color Optics. He will be and is missed. He had a unique way about him, you instantly loved him and enjoyed listening to the many stories, and challenges of Don. Fondly, Don you are a rare gem of a sales person, that will forever shine.
– Karen F. Hadden/Wolf
Matt Greco – Written by JoAnne Greco
It is with an extremely heavy heart we share news of Matt Greco's passing. Surrounded by his loved ones, Matt passed peacefully in Florida on September 30th, 2021.
Matt was a former President of CIBS and was always genuinely interested in what was happening with CIBS and the industry, even after his retirement! He loved being a part of the CIBS organization and was so proud that his son Dave and Dave's wife, JoAnne, were involved as well. He had a presence that was bigger than his over 6ft stature and you knew when Matt entered a room! Many of you may know him from his years at Tubed Products. We are incredibly thankful for his numerous contributions to the Packaging industry, and he will be missed dearly.